One of the first people to volunteer for
The Flat Ainsleigh Project
was the uniquely named Sarah N. from Smith College. I was thrilled to get her email, especially considering she is a busy college student (study hard!) and someone I don't actually know. So, like
Kirsten
, I was incredibly pleased that a stranger would take time out of their busy schedule to host our Flat Ainsleigh. Before mailing her off, Ainsleigh made a sweater, since she was not dressed for the east coast winter she was heading into. Thank you, Sarah N., for a lovely time. We wish you all the best as you return to school! (also, make sure you see Rufus Wainwright at that theater - we saw him with Ben Folds several years ago and he was fantastic!)
-----
Dear Ainsleigh,
I'm afraid I have been very greedy and kept you in the northeast for far too long, but I enjoyed your company so much that I just couldn't send you back home! However, I know you have many other people to visit, so I'm sending you off with all the best wishes for safe travel and more exciting adventures.
When you arrived I was incredibly excited!
Unfortunately, I am a student at Smith College, so most of my daily life is pretty uneventful- I spend a LOT of time studying, reading, and going to class. You were very helpful during finals, you kept me company at my desk while I wrote all of my papers, and we made many trips to the library for more research and to Seeley Hall for class.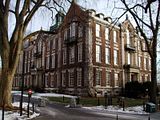 As much as we love learning, both of us were really glad when Christmas break came (
Woo Hoo
!).
For Christmas we went to my Mom's house. My parents are divorced, so my Mom lives in a log cabin house in Sabattus, Maine with her new husband Steve and Steve's son Steve Jr (it can get kind of confusing), and my Dad lives in Bangor, Maine.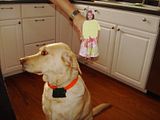 My puppy dog Lily was not so sure what to make of you at first, but she quickly warmed up to you. The first day we were at my Mom's house I was so tired that all I wanted to do was to relax on the couch and catch up on the favorite tv shows that I had missed during the semester. Then you, my mom and I quickly set to work on Christmas Eve dinner, which featured homemade bear stuffing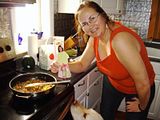 . I don't know if you have ever heard of people eating bear, but my Mom and Steve run a small hunting business where they take people out snowmobiling, snowshoeing, skiing, and hunting Maine black bear, moose, deer, and turkey. I sometimes get sad for the animals, but we try to do it in a respectful way- by using every part of the animal and saying a prayer for its' spirit. On Christmas Eve my grandmother (I call her Grams) and grandfather (I call him Jojo) came over.
Here is a picture of me, you, my Mom and Grams in front of our Christmas tree. All too soon we had to say goodbye to my Mom, but I was also excited to introduce you to my dad.
Unfortunately, my Dad doesn't have a digital camera so I didn't get many pictures with him, but we did have a lot of fun. We went to see Avatar 3-d, and we played a bunch of board games with my Dad, Aunt Liz, Cousin Max, and my Grampa John and Phoebe (my dad's step-mom). One memorable moment was when we were playing charades and my Grampa John stood up on his tippy toes and pranced around the room. He looked really silly and we all laughed a lot. Finally my aunt Liz guessed that he was trying to act out Platform Shoes. Then my Dad's girlfriend Diane and her daughter Auden came to visit. We pulled Auden around the kitchen in the new sled she got for Christmas. Auden then insisted she push you in the sled, and when she saw how much fun you were having, she asked me to push her as she tried to balance standing up like you!
Dad and Diane were nice enough to drive me back to Smith for the start of Spring term. Diane had never been, so I showed you and her around Smith College and the town of Northampton.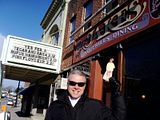 First, we went to breakfast at Jakes (they have the most delicious blueberry pancakes!), which is right next to the theatre (I can't wait to see Tegan and Sarah in concert, I wish you could be here for that.). Then we headed to Smith College's Botanical Gardens.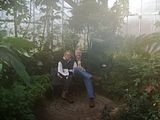 Here are Dad, Diane, and you on a bench in the room of plants from Latin America. It is one of my favorite rooms because the plants smell so fresh, there are beautiful flowers and a waterfall.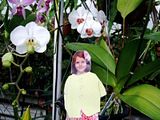 Sometimes, especially in winter when it is bitterly cold outside, I take a book and come sit at that bench to warm up in the tropical climate. We saw a couple of gorgeous orchids, and you fit right it.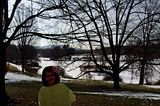 From the botanical gardens we walked down the river (one of my favorite places at Smith), to the Japanese style bridge that connects Smith campus to the Athletic fields. There's also a waterfall behind the bridge.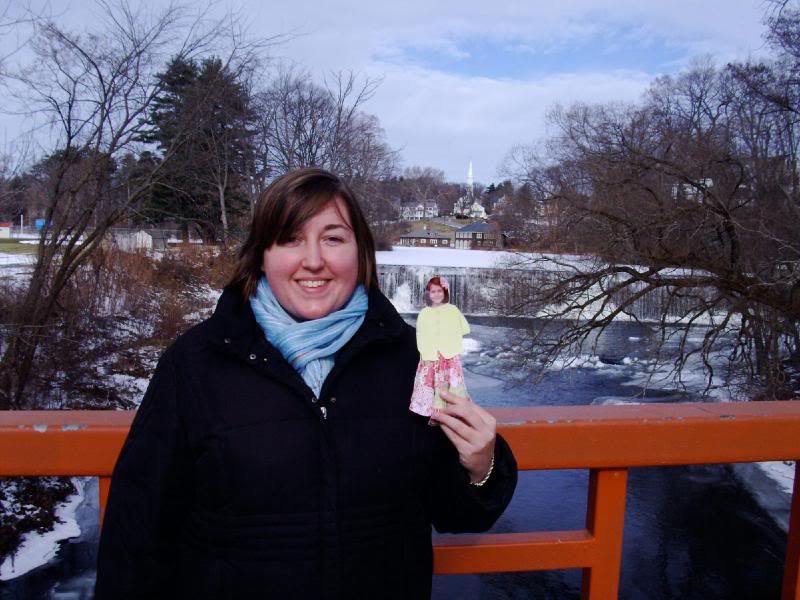 Then we headed to check out where I work- the Sophia Smith Collection. The Sophia Smith Collection is the largest women's history archive in the whole U.S. We have all of the personal letters, speeches, diaries, etc of many interesting women, most of whom were active in fighting for women's rights to vote, safe working conditions, and equal pay for men and women. It can be really fun to read all of their personal papers. Sometimes the people we like or who we want to be like can seem to be super-human, but reading their private thoughts or speeches makes them feel more human and can make me feel like I too have the ability to improve the world like they did.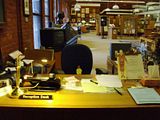 Here is a photo of the exhibit and reading room at the archive. My job is to greet people and answer the phone, and you were an excellent helper.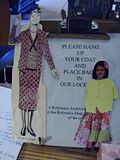 You even made a friend when you met Flat Margaret Sanger, who is there to remind people of the rules of the archive . At the archive we also have a picture from Smith's first track meet. You reminded me of the race you were in just a short time ago, and of the race your mom did in a skirt. I didn't know it, but you can tell from the picture that women ran track and jumped hurdles in long skirts and stockings almost 100 years ago!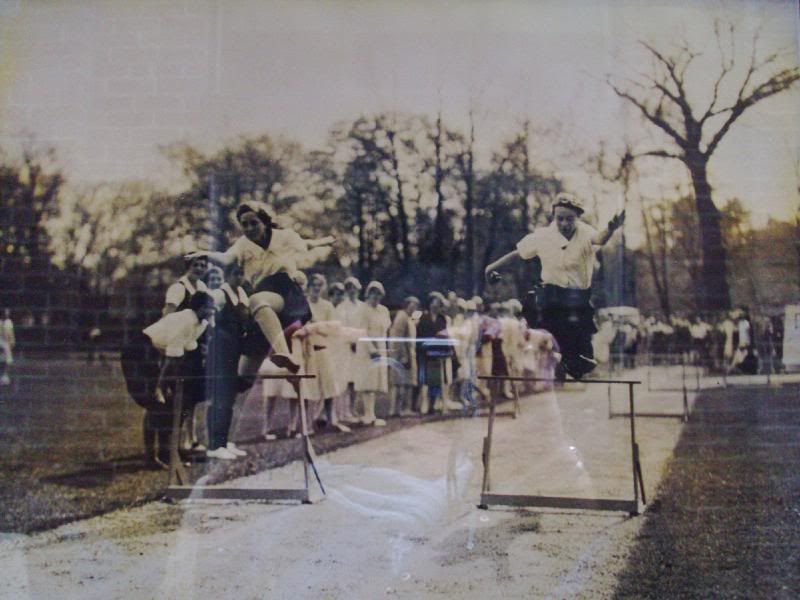 After visiting the archive, we passed
the Main Gate
to Smith College, and I had to pull you back to keep you from walking through. There is a long-held belief amongst Smith students that if you walk through the gate one way then you'll never get married and if you walk through the other way you'll never graduate, so all of us are careful to avoid walking through the gate!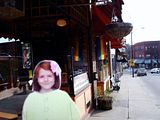 We walked further downtown, and on one of the side streets we stopped in front of Pizza Paradisio- my favorite pizza place in town (Their vegetable garden pizza is to die for). It's a bit hard to make out in the photo, but there are several businesses (including Pizza Paradisio) that hang rainbow flags outside of their stores.
Well, I'm afraid that is the end of my tour- it is bitterly cold here so we will head back up to Smith and I'll send you home (hopefully your next destination will be a bit warmer!) Thank you so much for visiting, and you and your family are welcome here anytime!
Sarah N.